When choosing a presentation format, many people face the dilemma of which format to use. Currently, the two most commonly used formats are the classic 4:3 and the wider 16:9. Which one to choose? It is worth examining several arguments that can help make a decision.
The first and one of the most important arguments in favor of choosing the 16:9 format is that it is currently adapted to wide screens that dominate in laptops and televisions. Most of the devices we use every day are equipped with such a screen, so by choosing this format, we have a greater certainty that our presentation will be displayed optimally.
The second argument is that the 16:9 format better utilizes space. There are no black bars on the sides of slides, which means that we can use a larger presentation area. This allows for more comfortable placement of text, graphics, and photos, as well as increases the readability of the presentation.
The third argument in favor of choosing the 16:9 format is its modern appearance. While 4:3 is rather associated with traditional presentations, such as those used in universities or offices, 16:9 is associated with modern technologies. Thanks to the fact that this format is used in an increasing number of applications, choosing it can make us appear more up-to-date.
The last argument that should be considered when choosing a format is the fact that almost all presentation software defaults to creating slides in the 16:9 format. This means that this format is more popular and may be more compatible with different devices and systems on which our presentation will be displayed.
In summary, when choosing between the 4:3 and 16:9 format, it is worth choosing the latter. Adapted to wide screens, allowing for better use of space, looking more modern, and compatible with most applications, it is currently the most commonly chosen format for creating presentations.
How to change the presentation format in PowerPoint?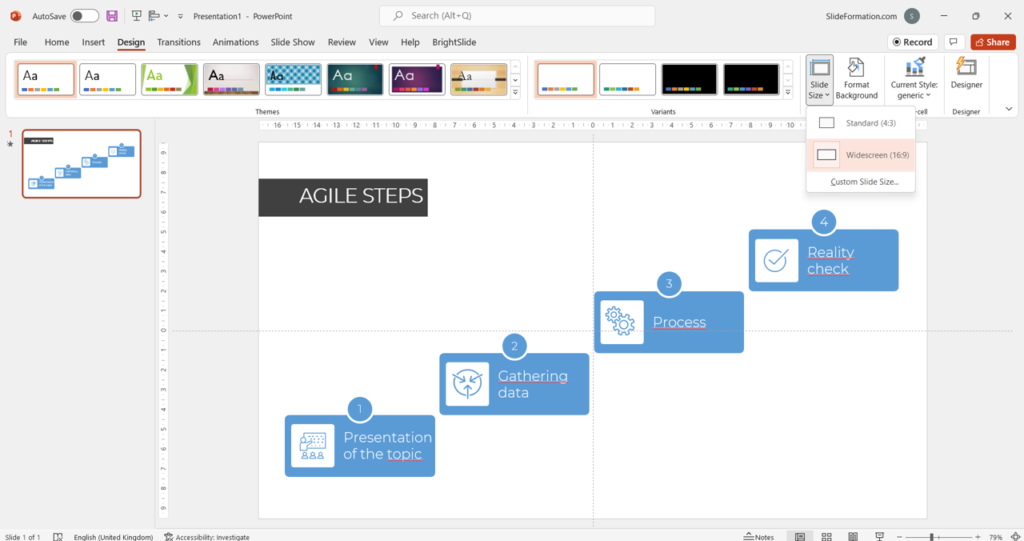 Go to the Design tab
Expand the Slide Size option
Select the 16:9 option
Unfortunately, as a result of this change, some elements on the slides may be reduced, and some may go beyond the slide. Manual adjustments are therefore essential in such a situation.
Here is what a slide looks like in the working mode in the 4:3 format: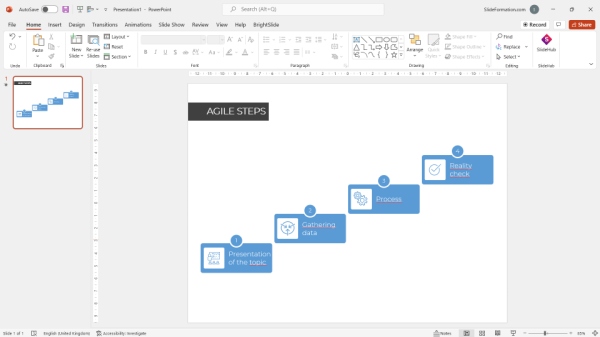 Here is what the same slide looks like in the slideshow mode in the 4:3 format:
This is what the same slide looks like in the working mode in the 16:9 format:
And here is what the same slide looks like in the slideshow mode in the 16:9 format: